Fully Enclosed box Section construction build by using rectangular drawn tube S.G Iron Cast Wheels, self lubricating, minimum wear on rails, hardened to 280-300 BHN key less wheel & shaft assembly gives concentric movement with Low wheel maintenance machine bored flanges after welding assures perfect alignment of bearing, shaft & wheel std gear box brake motor of SEW/N/Rossi make gives high level of reliability with maintenance free working.



Features:

• Available for single and double girder cranes
• Modular box type construction
• Completely machined fabrication giving perfect alignments and tolerances
• Forged wheels in CK 45 material or SEW IRON 800/2
• All drive units from 85 SEW Nord
• Gear drives directly coupled to wheels through hollow shaft
• Soft start/stop feature is standard
• AC Disc brakes are fitted as standard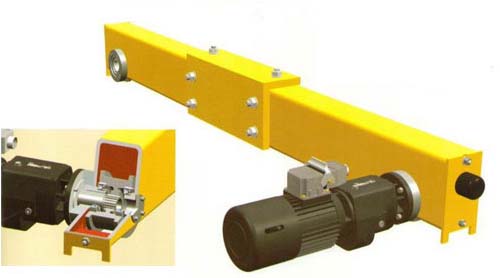 Crane Wheel Assembly:

Presently most of the Crane manufacturers are using En 9 or En 8 material forgings for crane wheels. The wheels are manufactured in forging due to which we have to pay @ 30% more cost towards the basic Raw Material & this additional material we need to remove in machining by investing more machining time. Lead time for forgings is min 4 to 5 weeks from the date of order & 1 more week for machining, heat treatment & other finishing (e.g. bore grinding). It means we have to plan the material before 5 to 6 weeks.

In case of En 24, we need to have few more days for machining time due to high hardness as compare to En 9 To avoid high procurement time & heavy machining, we have developed these Crane wheel in SGI 800/2 material. Main property of this material is self lubrication & high strength.

Since these are castings, the delivery period of the material will be reducing to 3 weeks against of forging 5 to 6 weeks. Along with this we can save 15% to 20% in overall cost. We are giving the test certificate for every wheel with traceability for wheel No. The report will contain UT & actual hardness of wheel along with physical & chemical of material.

Sizes of the wheel is available from 150 mm to 630 mm (As per customer's requirement) .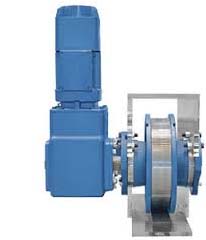 Drive Wheel Assembly:

Features:

• Modular wheel blocks in different sizes and capacities
• Steel fabricated and completely machined bodies
• Forged wheels in CK 45 material / SG IRON 800/2
• All Drive units from SGE / NORD Gear drives directly
coupled to wheels through hollow shaft
• AC disc brakes are fitted as standard
• Provided with or without gear drives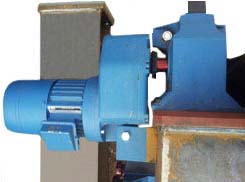 Gearbox Assembly: